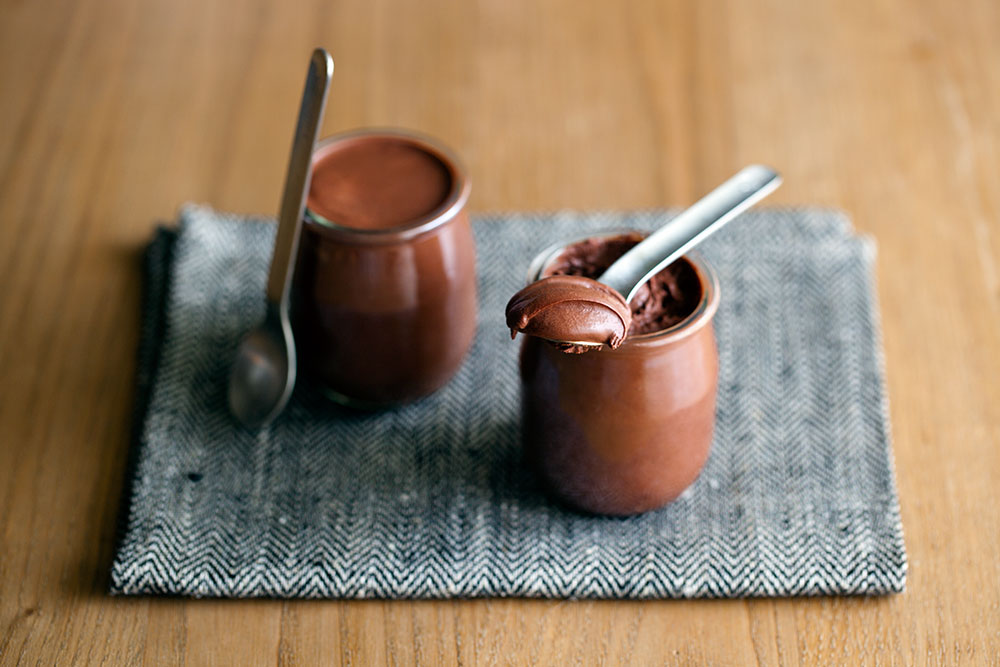 Two ingredients
 (seriously, only chocolate and water) and 
five minutes
 later, you will be eating 
The Best Chocolate Mousse of Your Life
. I promise.
And you don't even need any fancy kitchen gadgets. Patience and a bit of elbow grease are required, but we always need those in the kitchen, right?
This amazing discovery was made by the famous French chemist, Hervé This, who is also known as the man who unboiled an egg. The recipe, which is also called Chocolate Chantilly, starts with melting chocolate in water and ends with whisking it until thickened. Sounds like it goes against everything we've been thought about working with chocolate, right? Sure, I've seen chocolate and water together in many recipes, but that was just the beginning of a recipe (mostly chocolate sauce), not all that you needed. So forget about everything you've been thought and try it. The recipe not only works, but also produces a mousse with the purest chocolate flavor ever.
Since the recipe has only two ingredients, it all comes down to the quality of the chocolate you use. My favorite is Valrhona's Guanaja, but if you have another favorite, feel free to substitute as long as it has 70% cocoa solids. If you find the taste of bittersweet chocolate too strong, you may add a bit of sugar.
INGREDIENTS
4 servings


9.35 ounces (265 grams) bittersweet (%70 cocoa solids) chocolate, chopped (preferably Valrhona Guanaja)


1 cup (240 ml) water


4 tbsp sugar, optional


HOW-TO


Place a large mixing bowl on top of another slightly smaller one, filled with ice and cold water (the bottom of the large bowl should touch the ice). Set aside.


Put chocolate and water (also sugar and/or liquor if you're using) in a medium-sized pan and melt the chocolate over medium heat, stirring occasionally.


Pour the melted chocolate into the mixing bowl sitting on top of ice and water, and start whisking with a wire whisk (or an electrical hand-held mixer) until thick. Watch the texture as you whip and make sure not to over-whip as it will make the mousse grainy. If the mousse becomes grainy (which is possible at your first try), transfer it back into the pan, reheat until half of it is melted, pour it back to the mixing bowl and whisk again briefly.


Divide into four serving cups and serve immediately.